10 Mahjong Description
10 Mahjong is a very good and relaxed distribution of Mahjong with subsequent modifications which gives it a good replay value. The point system and timer that creates a little of stress towards the end.
How to Play 10 Mahjong
After 10 Mahjong loads press start. Next, Combine 2 free tiles of the same type in such a way that the total value 10 is. The goal is to remove all the matching tiles from the game. Also, tiles cannot be covered and must have at least 1 free left or right side.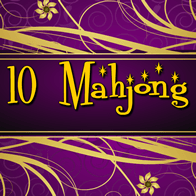 Game Stats
72 views
Game Tags
goal, Mahjong, matching, point, side, tiles
Game Categories